1.  Give us a call 207-907-4380 and place your order
2.  Provide name and credit card info
3. Give us appx 30 minutes (unless told otherwise)
4. Park on Broad Street in our designated pickup spots.
5. Come inside. See the bartender for your order.
      5a. If you prefer curbside, please let us know. Well bring it to you.
                    Grab your grub and enjoy!!
Parking is on Broad
Street behind NDH
TODAY'S MENUs
Our menu will be posted on our social media platforms and our website.
Please use the links below to access our current to go menus.
Our goal is to keep everyone healthy and fed well
OUR DRAFT List
 Our draft list is a constantly evolving menu of the best beers that we can find locally and abroad. 20 lines, well balanced and always changing for optimum freshness.
Events | Happenings
Keep an eye out for everything happening in The Haus. From food/beer pairings & brewery showcase events to live music, Art Haus and other inspired light mayhem, there's always something to interest everyone.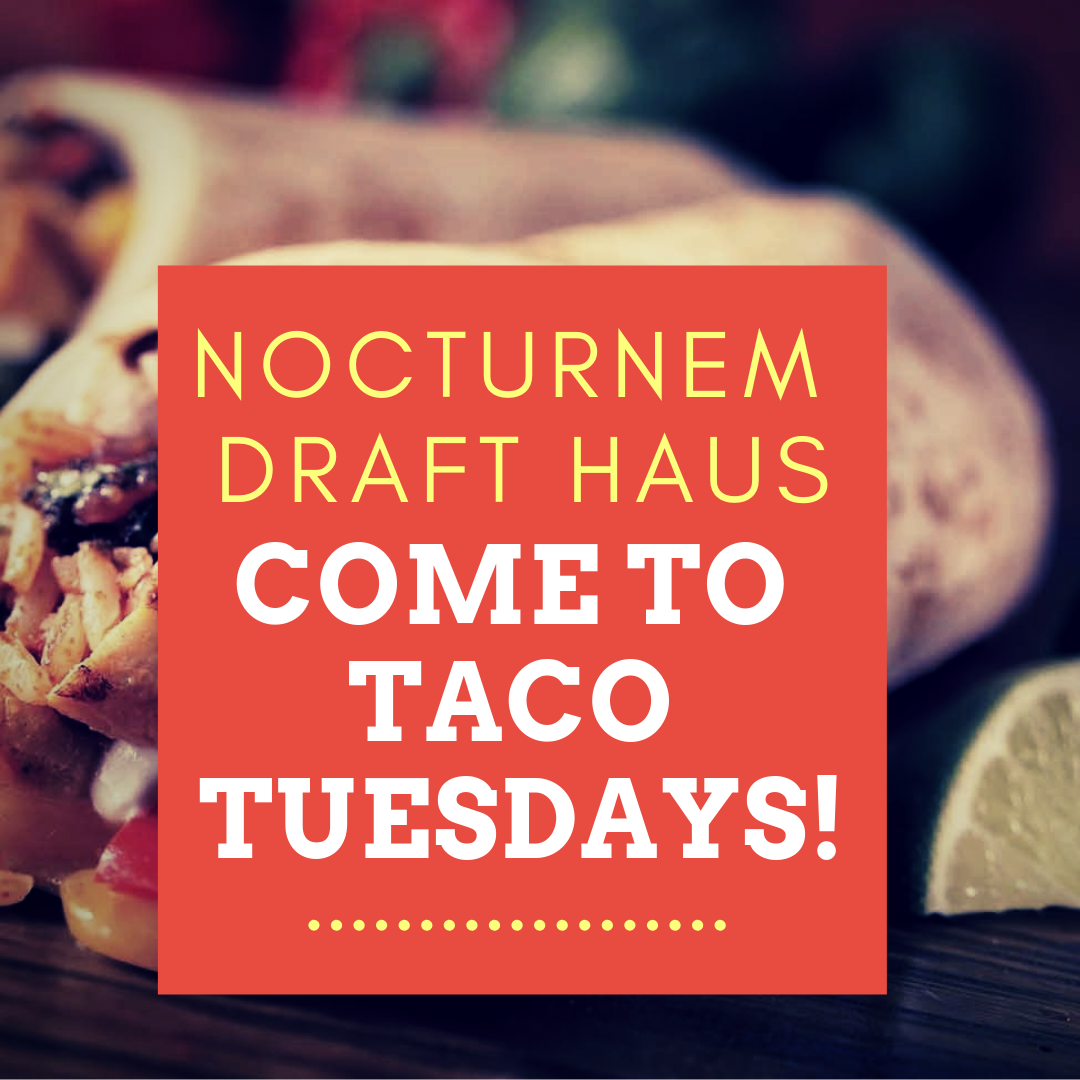 Taco Tuesday
Taco Tuesday in The Haus.
Mama Noc's famous taco seasoning & local beef combine to make some killer tacos. Soft flour tortilla, Haus sauce, Cheddar Jack, lettuce, tomato & sour cream. Order 1 or 100…you do you! We also have a vegetarian version and a corn tortilla option (gf).
Guac is avail, but extra
Wing Wednesday
Wing Wednesday
Our famous smoked & chargrilled wings on the cheap!
Sure you can start with 4 or  but you know you're gonna order 20.
*Haus made sauces available: Haus Beer, Bleu Cheese, Ranch, Chipotle BBQ or Frank's Buffalo*
a small charge applies
$9.99 Burger Thursday
This features our fantastic grass-fed burger. Just because it's half price doesn't mean we skimped on the quality or the portion. Our Classic burger is exactly that. A classic. Lettuce, tomato, American or Cheddar.
Live Music & Vinyl Nites
Friday & Saturday is typically about music.
Most times…
1st Friday Jazz w/The Bill Barnes Trio
2nd & 4th Friday Night – Vinyl Nite w/Queen City Sound System
and much more…
Vinyl nite
On selected Friday nights we host Queen City Sound System as they tear through some serious vinyl offerings. Our guests are encouraged to bring their own albums to be played.
The Original Bangor
Draft Haus
100's of Bands playing per year
From the beginning, Nocturnem was about bringing quality craft beer to Bangor and providing a no frills approach to your experience. You come to Nocturnem for exactly what you get. Great taps, perfectly paired food, and service that makes you come back for more.
Monday:         4-9
Tuesday:        4-10
Wednesday:   4-10
Thursday:      4-10
Friday:          4-11
Saturday:      4-11
Sunday:         closed
Contact Us
We believe that you deserve the best when it comes to your dining and beverage choices. That is why we are dedicated to making every plate and pour the best experience you can have. Please feel free to leave comments, good or bad. That just makes us stronger.
56 Main St, Bangor, ME 04401
(207) 907-4380
info@nocturnemdrafthaus.com
Monday:       4-10
Tuesday:       4-10
Wednesday:  4-10
Thursday:     4-10
Friday:          4-11
Saturday:      4-11
Sunday:         closed