Now Offering
TO-Go
~~~CLOSED TEMPORARILY FOR ALL BUSINESS~~~
1.  Give us a call 207-907-4380 and place your order
2.  Provide name and credit card info
3. Give us appx 30 minutes (unless told otherwise)
4. Park on Broad Street in our designated pickup spots.
5. Come inside. See the bartender for your order.
      5a. If you prefer curbside, please let us know. Well bring it to you.
                    Grab your grub and enjoy!!
Parking is on Broad
Street behind NDH
TODAY'S MENUs
CLOSED TEMPORARILY FOR ALL BUSINESS
Our menu will be posted on our social media platforms and our website.
Please use the links below to access our current to go menus.
Our goal is to keep everyone healthy and fed
OUR DRAFT List
 Our draft list is a constantly evolving menu of the best beers that we can find locally and abroad. 20 lines, well balanced and always changing for optimum freshness.
Events | Happenings
Keep an eye out for everything happening in The Haus. From food/beer pairings & brewery showcase events to live music, Art Haus and other inspired light mayhem, there's always something to interest everyone.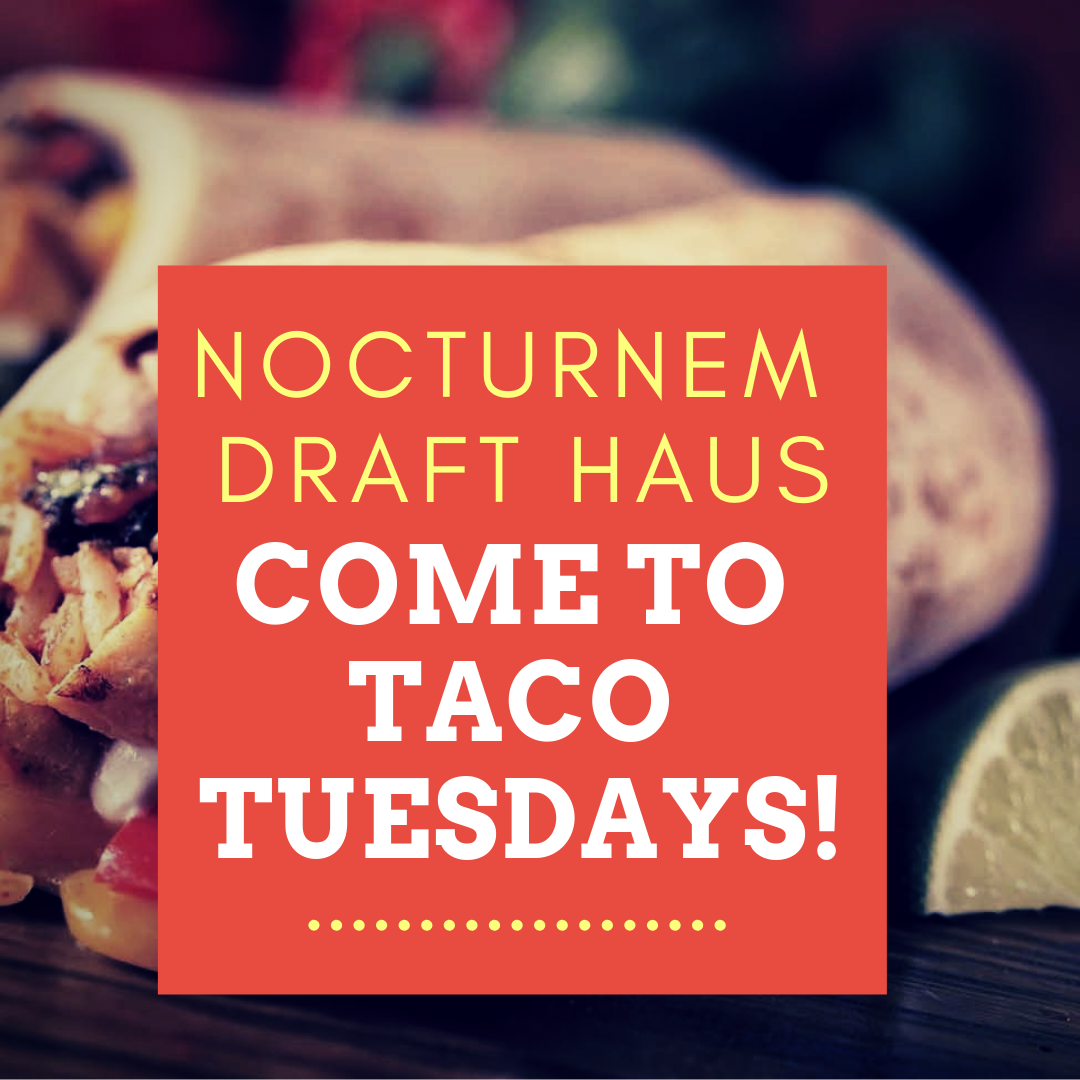 Taco Tuesday
$2 Taco Tuesday in The Haus.
Mama Noc's famous taco seasoning & local beef combine to make some killer tacos. Soft flour tortilla, Haus sauce, Cheddar Jack, lettuce, tomato & sour cream. Order 1 or 100…you do you! We also have a vegetarian version and a corn tortilla option (gf).
Guac is avail, but extra
Wing Wednesday
$1 Wing Wednesday
Our famous smoked & chargrilled wings for a buck apiece! Sure you can start with 4 or  but you know you're gonna order 20.
*Haus made sauces available: Haus Beer, Bleu Cheese, Ranch, Chipotle BBQ or Frank's Buffalo*
a small charge applies
Live Music & Vinyl Nites
Friday & Saturday is typically about music.
1st Friday Jazz w/The Bill Barnes Trio
Friday Night Vinyl w/Queen City Sound System
Funky Friday w/Hippie Soup
2nd Saturday Blues w/ The Dave Mello Trio
and much more… Check our events calendar HERE
Vinyl nite
Every other Friday night we host Queen City Sound System as they tear through some serious vinyl offerings. Our guests are encouraged to bring their own albums to be played.
The Original Bangor
Draft Haus
100's of Bands playing per year
Experience The
growler bus
the Growler Bus
How did we create Bangor's first beer bus tour? Well, the seed for this idea was planted during the deep snowstorms of early 2015. How do we increase awareness of the burgeoning beer scene and all the great breweries and bars in the Greater Bangor Area?
The founder of The Growler Bus, Gene Beck, has had his hand in the Bangor Beer Scene for years now. As owner of the area's best beer bar, Nocturnem Draft Haus, he has helped raise the bar and set the tone for the area. Nocturnem Draft Haus opened in April 2011 to a public that was growing increasingly tired of the mediocre offerings on everyone's local tap lines. Nocturnem focuses on bringing the freshest local beer as well as the highest quality craft and imports to its taps. The Greater Bangor area has grown a lot since then with more bars and restaurants subscribing to higher quality offerings.
From the beginning, Nocturnem was about bringing quality craft beer to Bangor and providing a no frills approach to your experience. You come to Nocturnem for exactly what you get. Great taps, perfectly paired food, and service that makes you come back for more.
Monday:         4-9
Tuesday:        4-9
Wednesday:   4-9
Thursday:      4-9
Friday:          4-9
Saturday:      4-9
Sunday:         closed
Contact Us
We believe that you deserve the best when it comes to your dining and beverage choices. That is why we are dedicated to making every plate and pour the best experience you can have. Please feel free to leave comments, good or bad. That just makes us stronger.
56 Main St, Bangor, ME 04401
(207) 907-4380
info@nocturnemdrafthaus.com
Monday:         4-9
Tuesday:       4-9
Wednesday:  4-9
Thursday:     4-9
Friday:          4-9
Saturday:      4-9
Sunday:         closed